Which woman doesn't luv lingerie? I certainly do and since the client also gave me creative freedom, this was indeed a fun project to do.  I created the logo and the website itself is custom designed by me. Cherrie Exclusive lingerie is an online lingerie store and their lingerie is beautiful so ladies do check it out!
Its a dynamic Ecommerce website with admin back end and South African Payment gateways integrated.
Below is a screenshot of  a product page :
A screenshot of the Home Page: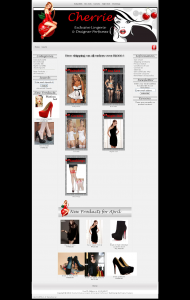 A screenshot of the contact Page:
Design Info:
This is a dynamic Ecommerce Website.
The website is designed to the client's specifications. Customized template.
Since it is a CMS based Ecommerce site, the website owner can add and delete products, can add/change text descriptions and prices,can add/deleted categories and can add/delete special offers.
South African Payment Gateway Payfast is integrated with the site.
Extras on this Site: