I have completed the redesign of  Leafy Apartments.
The client  wanted a site that is easy to update and they want to be able to do the updating themselves.In addition to that, the client wanted a very minimalistic, professional look for the site.
I decided to use WordPress as a CMS for this site. Although WordPress is a essentially  a blogging platform,with some  cutomization and code hacking, one can turn it into a  CMS site. Which is what I did. The client is very happy with the end result.
Here is a screenshot of the new design I created for the client: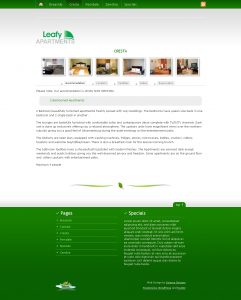 Extras on this Site:
* Custom Reservation Forms on each page
* Custom Contact Form
* Photo Galleries on each property page
* Flash slideshow on the main page.
* RSS Feed
* Dynamic Archive system