I have custom designed and developed a real estate website for Property Maputo. This was a challenging project as the client was very particular with regards to content layout and functionality required. So a lot of custom coding was required to develop the site 100% according to the client's requirements in terms of design, content layout and functionality. The end result is that I learned a few new things and the client has a site that he is very happy with.  There are plans to possibly make the site bilingual  with a Portuguese and English version, but this  I will do  in the coming months.
Below is a screenshot of the Home Page:
Here is a screenshot of a property listing page:
Here is a screenshot of the property detail page: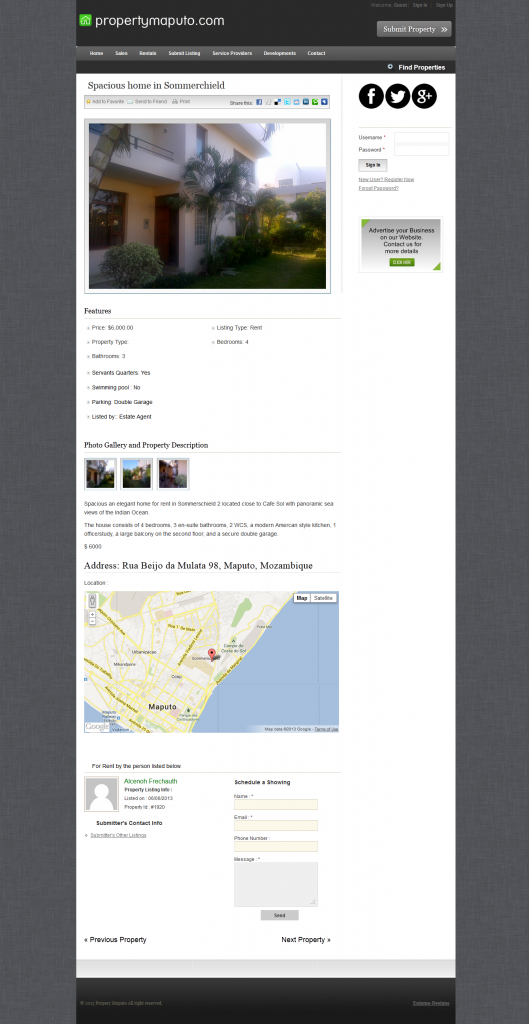 Design Info:
This is a dynamic CMS Real Estate Website with admin back-end so updating the site is easy.
Front end property submissions functionality included so agents and general public can list properties and manage/edit their properties.
The theme Design is custom designed.
The site consists of a dynamic real estate listing system, with public and agent front end submission,  paid featured listing with ecommerce functionality integrated, advertising functionality and extended search functions.
Extras on this Site:
Advertising functionality
Membership functionality
Front end property submissions
Google Maps on each property
Automated Featured Slideshow
Photo gallery on each property
Form to Schedule a property show on each property.
RSS Feeds
Dynamic Archive system
Light box  integration on gallery images
Ecommerce integration enabling paid featured listings.