Posts Tagged 'creative freedom'
I have designed and developed a custom website for Gearheads. It is  an online motoring news magazine website with lots of functionality and interactivity. I'm very proud of my work on this website!  This was a very challenging project to do, but at the same time also a very exciting project. In terms of interactivity, content and functionality, in my opinion this website is on par with the top motoring magazine websites in South Africa and it will not surprise me if it time it becomes the top motoring website in the country.
Below are screenshots of the design:
Home Page:
Category Page:
Article Page:
Gallery Page: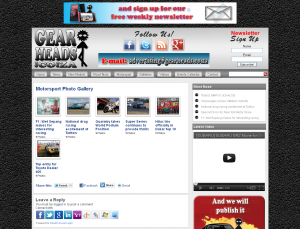 Fan Test Submission Page: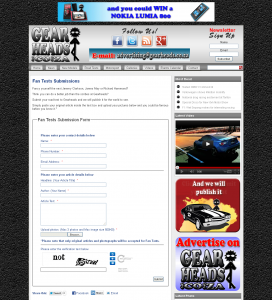 Competition Page:
Design Info:
This is a custom designed CMS Magazine style Website with templates created by me according to the client' specifications.
The site has lots of interactivity and functionality eg social login, newsletters sign-ups on every article page and much more.
Since it is a CMS site, the website owner can add,edit and delete pages, can administer the forum, send newsletters etc.
Extras on this Site:
5 Main Photo Albums each containing photo galleries
Featured Articles Slider-Showcasing the latest news
News letter subscription functionality
Video Galleries with individual banners,share &  search functionality
Member Registration
Social Network login facility- Custom applications created for this
Twitter Feed
Facebook like box
Banner Advertising management system – Custom coded
Submission Form
Contact form
User Management Functionality
Dynamic Archive system
Events Calendar with subscription function
Latest Photo Widget
Latest Video Widget
Social Bookmarking on every page
Print button on all article pages
Most view articles widget