Posts Tagged 'fun project'
I designed a new website for Valley View Lodge.
This was a fun project to do as I could give life to my creativity.
Below are screenshots of the custom design I have created for them:
Home Page:
Facilities Page: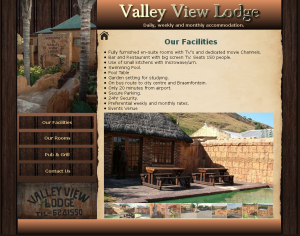 Contact Page:
Design info:
It is a a custom design,no templates were used.
It is a static website consisting of 5 pages.
Extras on this site :
Contact/Enquiry form
3x Java Photo Galleries
Google Street Map