Registration
I have designed and developed a custom website for Gearheads. It is  an online motoring news magazine website with lots of functionality and interactivity. I'm very proud of my work on this website!  This was a very challenging project to do, but at the same time also a very exciting project. In terms of interactivity, content and functionality, in my opinion this website is on par with the top motoring magazine websites in South Africa and it will not surprise me if it time it becomes the top motoring website in the country.
Below are screenshots of the design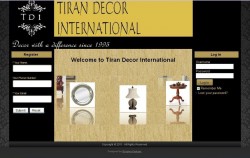 I have completed the redesign and development of the website of Tiran Decor International.
The site was a challenge to develop as the client wanted a custom quote functionality on each product which is not standard on most catalog sites. But I luv a good challenge and in the end I managed to give the client exactly the functionality requested and more. In the process I learned a new skill which will serve me well in the future.
The site is a dynamic CMS website which the client can administer with membership subscription and login functionality, product catalogs, quote