Posts Tagged 'trading'
MD trading is a furniture supplier. They needed a custom designed, dynamic  catalog
website to showcase their products.  I decided to design the site to look similar to
a catalog one would see in the print media. The end result can be seen in the screenshots
below.
Below is a screenshot of the home page:
Here is a screenshot of one of the product category pages: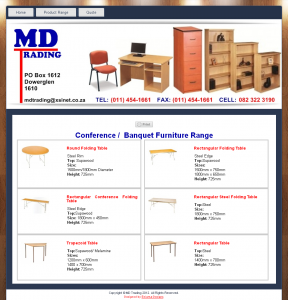 And here is a screenshot of the quote/contact page:
Design Info:
This is a dynamic CMS catalog  Website with admin back-end so updating the site is easy.
The theme Design is custom designed by me,no templates were used.
The site consists of a dynamic catalog system, with products arranged and displayed in categories.
Extras on this Site:
Print functionality on every catalog page
Quote/Contact Form
RSS Feed
Dynamic Archive system
Light box on every product image