This week I completed the custom design and development of an online store for Xtreme Multicopters. They manufacture an exiting range of RC products.
The site was designed according to the clients specifications. It is currently running as a catalog site and when the client is ready, the ecommerce side of the website will be enabled.
Below is a screenshot of the homepage:
Here is a screenshot of a product listing page: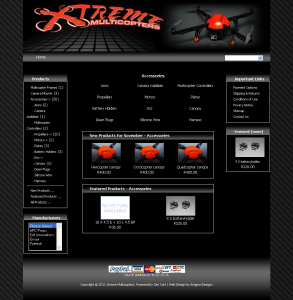 Below is a screenshot of a product Info page as it looks in catalog mode: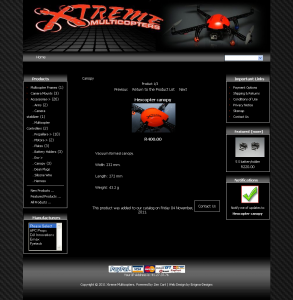 Design Info:
This is a dynamic Ecommerce Website.
The website is custom designed to the client's specifications.Custom designed template.
Since it is a CMS based Ecommerce site, the website owner can add and delete products, can add/change text descriptions and prices,can add/deleted categories and can add/delete special offers.
South African Payment Gateway Payfast is integrated with the site.
Extras on this Site:
Custom slideshow
Newsletter Functionality
Contact Form
Featured Products
Specials Listing
New product listing
Manufacturer listing
Product Reviews & Rating
RSS Feed
Dynamic Archive system