I have completed the design and development of a new website for Mike Collins & Associates.
Its a custom CMS website with lots of functionality and interactivity.
Mike Collins has been in the Financial Services Industry since January 1982.   The brokerage, Mike Collins and Associates cc, has been operating since November 1993.
Below are some screenshots:
Home page with newsletter tab closed
Home page with newsletter tab open
Services Page
Faq Page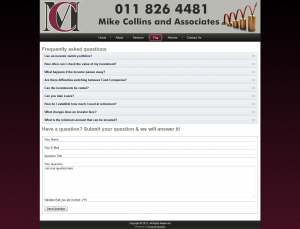 Design Info:
This is a dynamic CMS  Website with admin back-end so updating the site is easy.
The theme Design is custom designed by me,no templates were used.
Extras on this Site:
Quote/Contact Form
Faq system with form for questions
Newsletter functionality
Custom Graphics
RSS Feed
Dynamic Archive system
Tabbed interface on the services page
Advanced SEO functionality integrated