I have completed the redesign and development of the website of Tiran Decor International.
The site was a challenge to develop as the client wanted a custom quote functionality on each product which is not standard on most catalog sites. But I luv a good challenge and in the end I managed to give the client exactly the functionality requested and more. In the process I learned a new skill which will serve me well in the future.
The site is a dynamic CMS website which the client can administer with membership subscription and login functionality, product catalogs, quote forms on each product , newsletter functionality, user management and much more…
Here is a screenshot of the login page: (the images look skew as its a flash slideshow and hence movement took place as the screenshot was taken.To appreciate the design, you will have to navigate to the site itself.)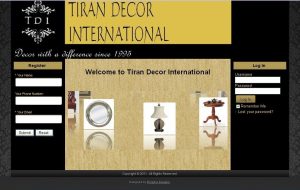 Design Info:
This is a custom designed CMS Website with templates created by me.
It is a catalog site created for wholesale customers, therefore it is a membership site as well and the general public do not have access to the site.
The site consists of a Product Catalog with many categories and pages.
Since it is a CMS site, the website owner can add and delete products, can add/change text descriptions,can add/delete product categories,can send newsletters, can add pages to the site etc.
Extras on this Site:
Photo Gallery
News letter Subscription
Custom Quote Functionality on each individual product. (automated population of product codes on Custom Quote form)
Member Registration Form
Login Form
2 X Flash Slideshows
Contact Form
User Management Functionality
User Tracking
Dynamic Archive system