I've completed the design of a new website for Whoppa Engineering and will also design a printable product catalog for them in the near future.
The Website is essentially 2 websites in one.The one section deals with the Engineering side of the business while the other section deals with the furniture section of the website.
Below are some screenshots of the design
Home Page: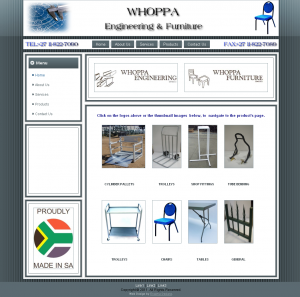 Furniture Page:
Design Info:
*This is a custom design, no templates were used.
*It is a dynamic CMS Website created on the WordPress Platform.
*The theme Design is custom designed by me.
*The site has 2 main catalogs, one for engineering products and one for furniture products.Under these 2 main catalogs there are product category pages;
*Each product photo is accompanied by the product's specs and in some instances where there are more than one product in a category, the products are displayed in a tabbed display on the pages.
Extras on this Site:
* Contact Form.
* 2x Flash Slideshows
* Individual Page Headers
* 2x Product Catalogs