I recently completed the custom design of a website for Love-Bites catering. I also did their logo and business card design. It was a fun site to do and I designed it according to the client's specification regarding website colors, logo etc. It is a static html site with custom order form so people can place their food orders online.
Here are a few screenshots of the design:
Home Page: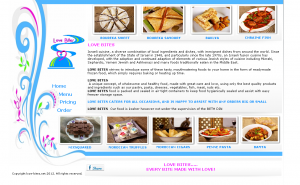 Menu Page:
Pricing Page:
One of the Product Pages:
Order Page: Its a very long page, so the screenshot is a bit small.
Design info:
It is a a custom design,no templates were used.
  It is a static website consisting of 13 pages.
Extras on this site: